After two years of closure, the only tavern in Corippo reopens in a completely renovated guise.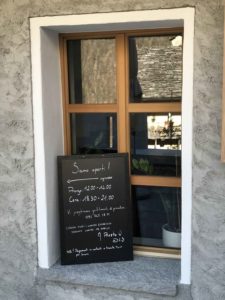 Of the nearly 300 inhabitants who populated the 70 or so houses in Corippo in 1850, at the end of 2019, on the eve of the covid epidemic, only 9 remained, making this 800-year-old village the least populated in Switzerland. However, with its ancient stone houses and narrow alleys, Corippo is a unique village and has been classified as a historical monument since 1975.
That is why the Corippo Foundation, founded in the same year, is committed not only to the preservation of the buildings of the village, but also to bring life back within these ancient walls. This is how the project of "albergo diffuso" was born and it entered its realization phase in May 2020.
The work was hampered by the pandemic and the subsequent lock-down and proved to be more complex than expected, but the first phase was completed on Easter Eve, with the delivery of the completely renovated and enlarged tavern, which will also serve as a reception for the future Albergo Diffuso, whose rooms will be located in a handful of renovated old rustic houses. The official opening of the hotel is scheduled for June. Désirée Voitle and Jeremy Gehring, the managers of the hotel are therefore hard at work, already opening the provisional inn for the joy of holidaymakers and the many hikers who face the path that leads west of Lake Vogorno through these wild lands from Mergoscia to Corippo. For dinners and lunches it is advisable to reserve at 091 745 18 71, also because the structure is still in a running phase.
To sleep in Corippo it will be necessary to wait for the month of June, but reservations can be made now. For more information see https://www.corippoalbergodiffuso.ch/en?origin_locale=it
A curiosity. With the arrival of Désirée, Jeremy and their son Ernesto, the population of Corippo has increased by 30%. Ernesto is, by the way, the first child to live in Corippo for half a century.